Sidebar
2024's Top Budget-Friendly Shower Walls
Are you starting a DIY shower project on a tight budget? We get it – finding affordable shower walls without sacrificing quality can be tough. That's precisely why we've gathered some amazing deals just for you.
When it comes to crafting products for bathrooms and kitchens, Transolid stands as a leading brand. They are known for their durability, versatility, and the ability to be seamlessly joined together, creating a smooth and integrated appearance. Their shower walls are often valued for their aesthetic appeal and ease of maintenance as they actively combat the growth of mold and mildew. Transolid guarantees a consistently pristine environment while offering diverse design possibilities. Within their product offerings, Transolid presents four distinct collections: Prodigy, Expressions, Titan, and SaraMar.
But now you might be wondering: Which option is really the best one for you? In order of low-cost to high-end:
---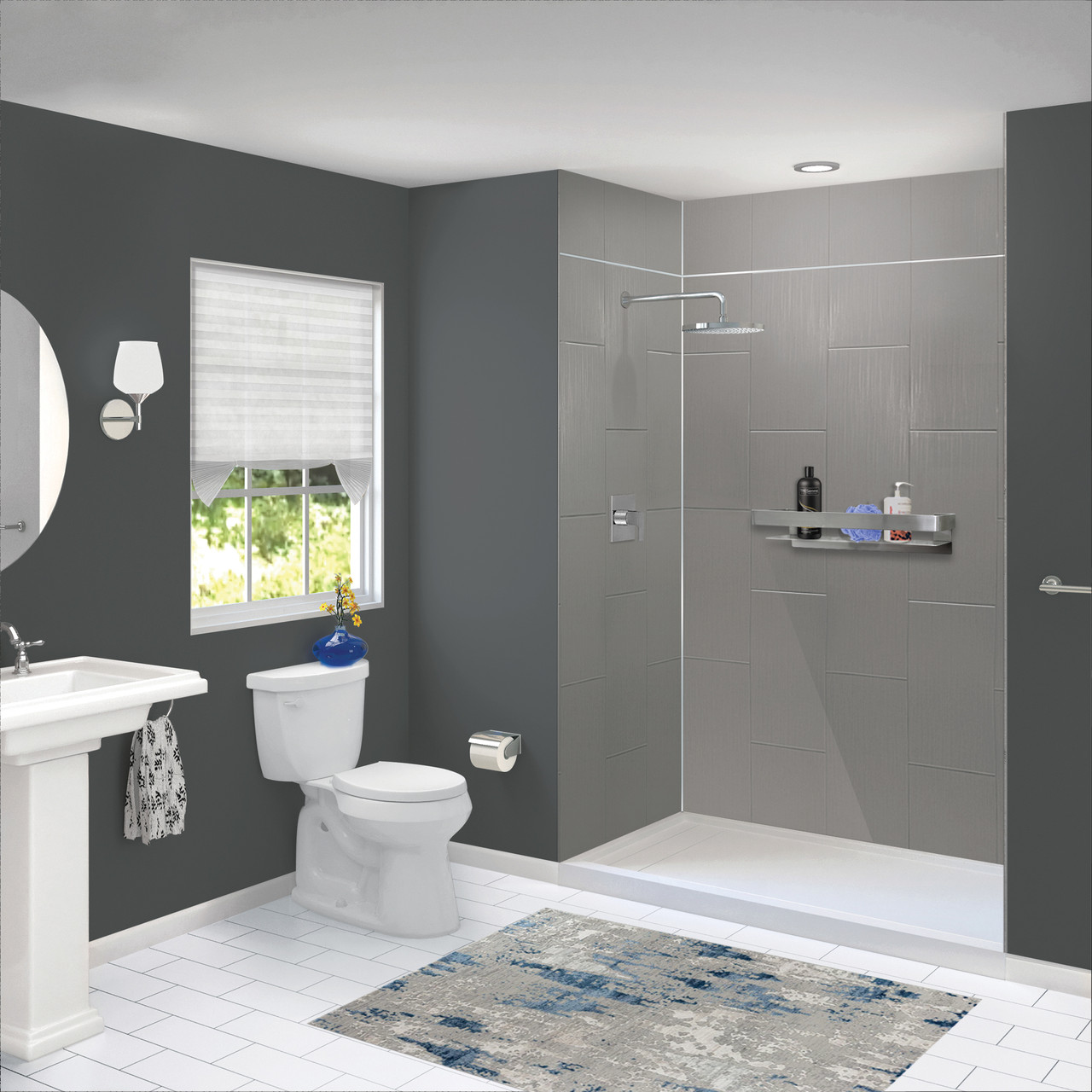 Prodigy shower walls encapsulate the perfect fusion of aesthetics and practicality. With a range of four distinctive patterns – including the timeless 3" x 8" Subway Tile, the contemporary 12" x 24" Vertical Tile, the classic Herringbone, and the captivating Hexagon – these walls redefine your shower space. The realism of these patterns is unmatched, creating an ambiance that effortlessly harmonizes with your style. With Prodigy, you're not just upgrading your shower; you're elevating it to a realm of unique elegance.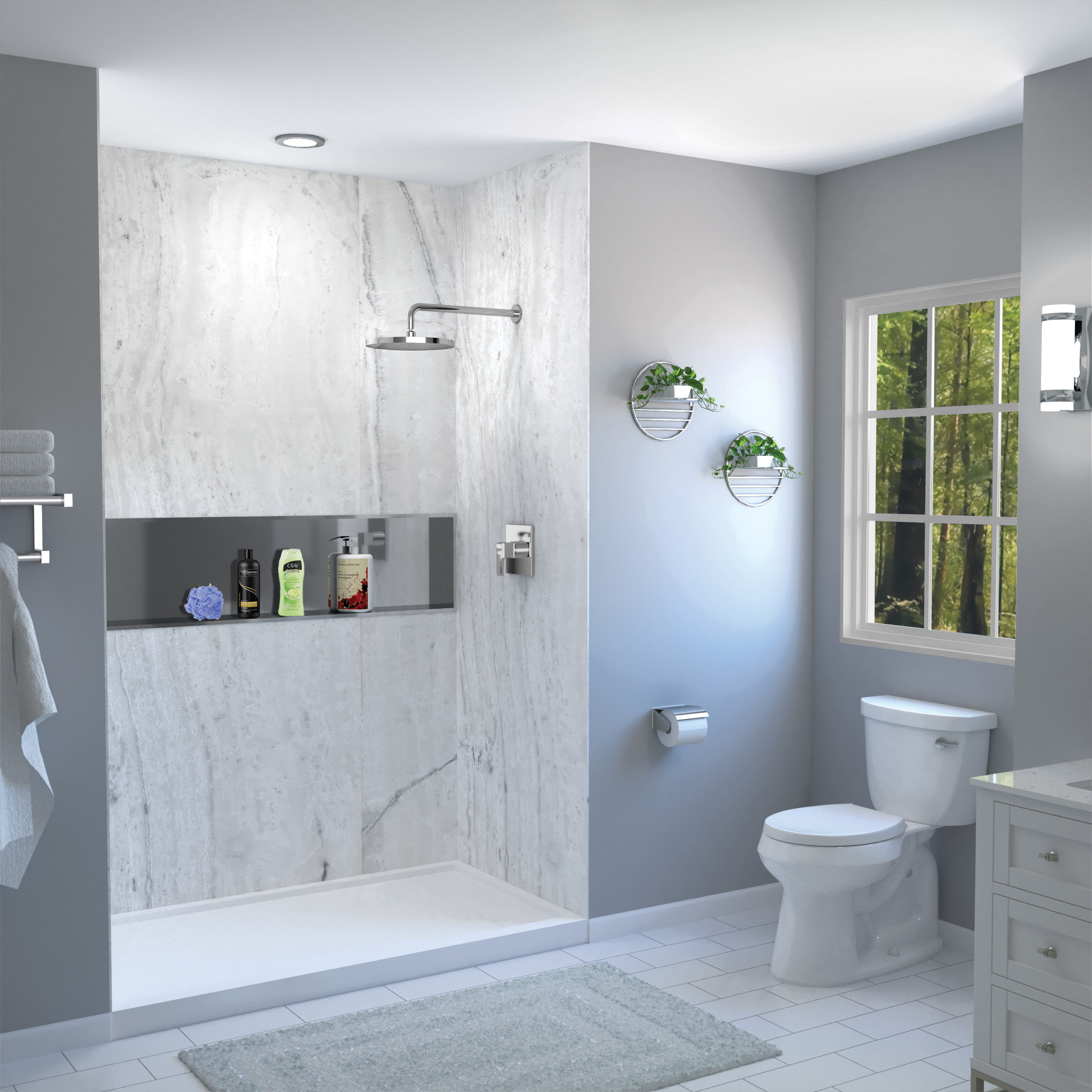 Crafted from hygienic, non-porous compression molded solid surface material, Expressions walls perfectly align with contemporary trends, boasting a range of up-to-date colors and patterns. The straightforward installation process of these wall panels is further enhanced by their adaptability, allowing them to be easily customized to fit your space. The outer edges of the wall panels come factory-finished, ensuring a hassle-free setup. Expressions walls showcase remarkable durability, impeccable stain resistance, and nearly maintenance-free upkeep.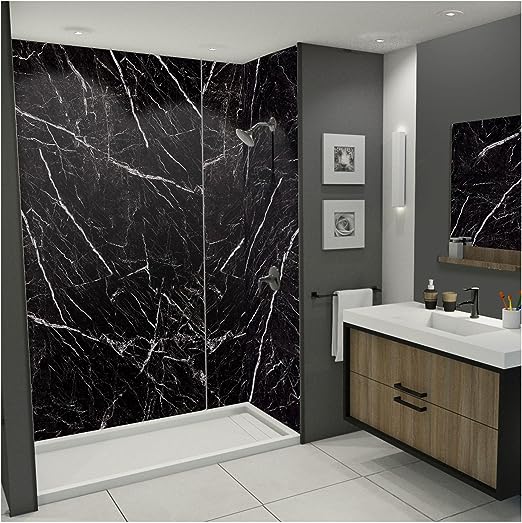 Titan aluminum shower walls represent the most advanced technologies in digital printing and the most innovative materials available today. The panels feature a 4mm thickness with three layers: robust aluminum on the surfaces and a resilient mineral resin core in the middle, ensuring strength. These qualities provide water resistance, stability, and impressive durability. Nine random patterns within each design offer a realistic marble or stone appearance. Additionally, matching mirrored book-matched patterns are available for those who want a more uniform pattern. Surfaces are scratch-resistant, with super high gloss, honed, and realistic textured finishes. These lightweight panels are easy to handle and install. They're versatile for both shower and wall use, delivering a luxurious natural stone aesthetic.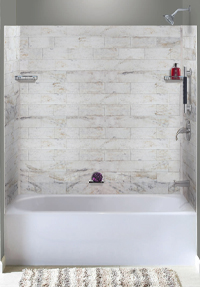 SaraMar shower walls radiate color throughout its full thickness, providing a renewable surface. Presented in a convenient 4" x 8" subway tile pattern or a velvety smooth matte finish, SaraMar offers both aesthetics and ease of care. The subway tile pattern offers the authentic appearance of tiles, minus the grout upkeep. These wall panels are easily trimmable and hassle-free to install. SaraMar walls ensure durability, stain resistance, and minimal maintenance requirements. Thanks to its high-density composition, the surface is resistant to bacteria growth.