Sidebar
What are the Types of Bathroom Sink Faucets?
If you go to buy bathroom sink faucets online, you'll find yourself faced with countless options—-especially if you're shopping with Bath1!
From bathroom sink faucet sets to single hole faucets with swan style spouts, it's easy to wonder where to start shopping. When you're feeling confused over your choice of a new bathroom sink faucet, this guide shows the most common types you'll find available.
Bathroom Faucet Installation Styles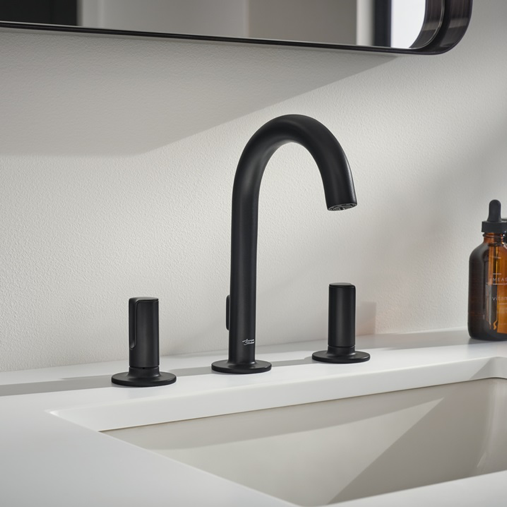 First, you'll need to consider how the faucet attaches to the vanity top. If you're using an existing vanity, there will be pre-drilled holes that determine what type of faucet you can install. If you're looking to buy a new faucet and new vanity top, try choosing your faucet first. Then you can pick the vanity top that works with the faucet, although there are options to have custom holes drilled into the vanity.
Single Hole and Double Hole
While the number of holes isn't a design element that you'll see after installation, a single-hole bathroom sink faucet means that it's configured to fit vanity tops with a single hole. If you're looking into a new faucet for an existing countertop, make sure you consider the number of holes installed.
Both single hole and double hole faucets can have one or two handles.
Centerset Bathroom Sink Faucet
A centerset bathroom sink faucet is one of the standard sink facets that include a third hole for installation. The handles are 4 inches apart with a combined spout and handle on the base. You may also find that a centerset faucet includes a 6-inch plate for mounting.
Vessel Faucet
Vessel faucets are specifically designed for vessel sinks. They are tall and narrow and include a handle on top, although you can find options that include handles on each side. The handle design varies by product and can include lever handles, which is a cross-shaped or X-shaped design.
These faucets are specifically designed to reach over the height of a vessel sink. These sinks sit above the countertop, unlike traditional sinks that are undermount and drop underneath the vanity.
Widespread Faucets
Widespread faucets have the spout and the handles set further apart than what you'll find with other faucets---hence the name widespread.
With a widespread faucet, the distance between the parts of the faucet is at least 8 inches.
Wall-Mounted Bathroom Sink Faucets
A wall-mounted bathroom sink faucet is installed into the wall above the bathroom sink. This style of faucet is advantageous because it provides extra room that doesn't take over the bathroom countertop. It also provides a very streamlined appearance and blends beautifully with contemporary bathrooms.
Spout Styles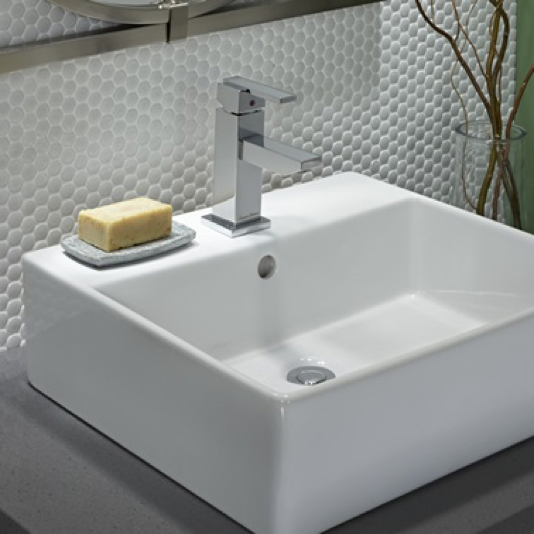 The spout makes a major impact on the style of a bathroom sink faucet. Whether your bathroom is traditional or contemporary, there is a spout style to match the exact look and feel of your bathroom.
These are the typical spout styles you'll find available:
Swan: Arches long and elegantly over the sink.
Molded: Contemporary style that forms a single piece with the body of the tap.
Rounded: Similar to the swan style but with slightly rounded corners.
Straight: Elongated S-shape that's typically shorter than other spout styles.
Keep in mind there is more to consider than the style of a spout than aesthetics. Other factors include:
Height: You'll need enough height for movement of washing your hands.
Material: Bathroom sink faucets come in a variety of finishes, including chrome, brass, brushed steel, and more.
Sink Depth: The faucet should suit the depth of your bathroom sink.
Although mixing and matching your vanity top and faucet can be fun, bathroom sink faucet sets make the process much easier. You can even consider pedestal and basin combinations with faucets included for you. The possibilities are endless!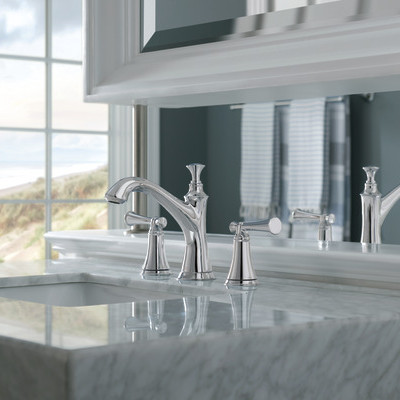 Get the Best Bathroom Sink Faucets from Bath1
Count on Bath1 to deliver quality yet affordable bathroom sink faucets for all styles of bathrooms. Consider our own Transolid brand to get the beauty and quality of high-end faucets at the best market value!